Meet Jason Ryczek, Sous Chef at Waterbar.
Chef Jason and I have recently combined forces. We wanted to showcase things we explore and are proud of in our kitchen-the things that go on in the, "back of the house". These projects deserve mention; they are exciting, creative and delicious.
We are going to start with our Housemade Buratta. Soft and smooth, this creamy cows milk cheese translates to "buttery" in Italian. Chef Jason is ordering Strauss cream top milk from Petaluma, which provides a nice golden ivory finished product.
The video above gives you a great example of how to actually form the buratta. Chef Jason will break it down step by step for you and go over the entire process from start to finish. This is an introduction to some of the things we do here at Waterbar..... more Stories to come!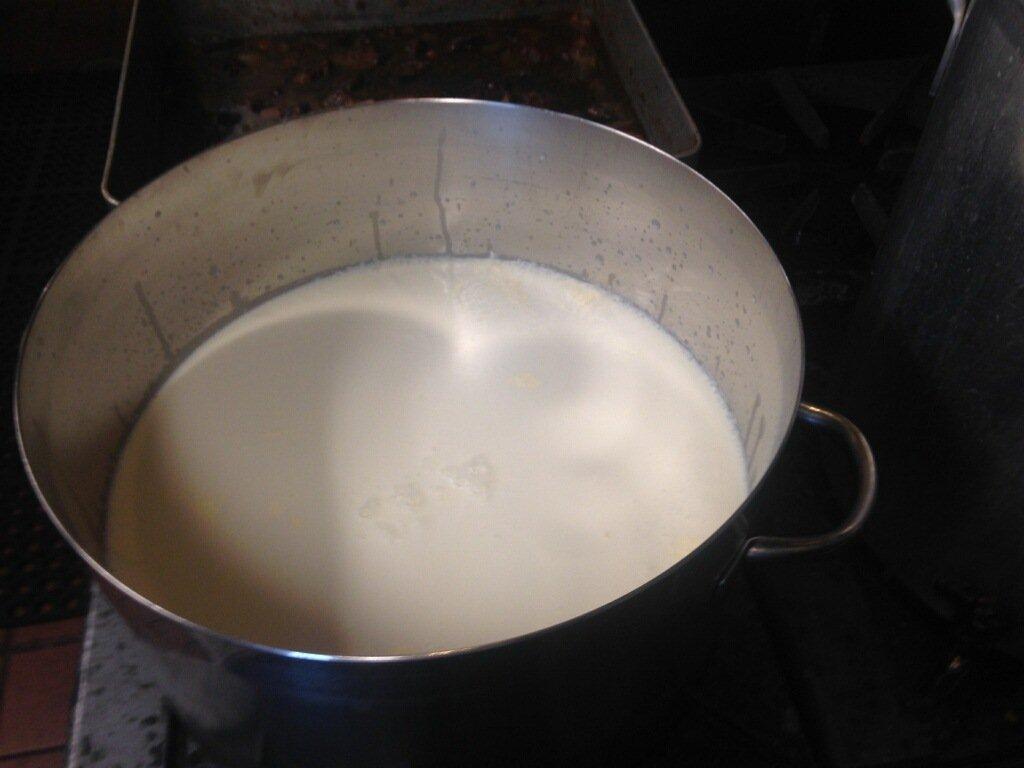 First we start with the milk, and you can see the cream tops floating around. We then add Calcium Chloride and Citric Acid to begin the process.
We heat this to about 88°F, remove it from the heat, and stir in Veal Rennet (but only two figure eights). It then rests until the curds come together and can pull from the sides (about fifteen minutes).
Next the curds are cut, the pot is brought back to a low flame, and constantly stirring, heated to 106°F.
Once it reaches this temperature, it's strained and the curds are reserved for the cheese making. We usually separate it in half so we can use some curds for kneading and stretching to fill, and the others for seasoning and stuffing.
To stretch, we bring a pot of water to 180°, and try to keep it there to warm the curds, knead them, and stretch them into a balloon for the filling curd.
Although the purpose of this project was to test a theory for something down the road, we played with it and ultimately ran out the burrata with a strawberry salad. As we perfect the stretching/balloon method, we look forward to filling our 'mozzarella balloons' with other fun ingredients. Next will be a twist on a soup dumpling, where we will fill it with NO2 charged Parmesan Rind Brodo.